Distinguished iNANO Lecture: Conformational Dynamics of DNA Molecules
Associate professor Victoria Birkedal, Interdisciplinary Nanoscience Center, Aarhus University, Aarhus, Denmark
Info about event
Time
Friday 31 January 2014,
at 10:15 - 11:00
Location
The auditorium of the iNANO House (1593-012), Gustav Wieds Vej 14, 8000 Aarhus C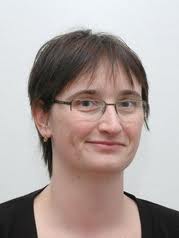 Conformational Dynamics of DNA Molecules

Single molecule investigations allow nanoscale control of and detailed insights into a number of fields including materials science and the "machinery" of biological systems.

Nature is able to control the folding of nucleic acids into a number of structures, for example in the folding of the meter long DNA into chromosomes that fit into the nucleus of a 10 µm cell. Recently, DNA has also been used to create complex artificial nanostructures and molecular machines in two and three dimensions. Insight into the structure and dynamics of nucleic acids are essential for understanding their specific function.

I will present our optical investigations of the structural dynamics of different complex DNA structures. Their conformational diversity, revealed through single molecule Förster resonance energy transfer experiments, will be discussed as well as ways to control it. Direct observation of the molecules in action allows us to provide a detailed picture of heterogeneity at the molecular level.

Host: Director & professor Jørgen Kjems, iNANO & Department of Molecular Biology and Genetics, Aarhus University, Aarhus, Denmark


Please note! Coffee, tea and bread will be served in front of the iNANO auditorium from 10:00 o'clock.