The Bio-SPM group investigates the physical and chemical properties of biomolecules and novel materials based on nano objects. To explore the functional properties of materials down to the molecular scale, we have developed and use a wide range of state-of-the-art scanning probe methods such as harmonic AFM techniques, SICM, EFM, MFM, SEM and TEM. Another important area of focus is the understanding and controlling of self-assembly of nano structures.
We are welcoming worldwide applications of all levels. If you are interested please send an email and your CV to Prof. Mingdong Dong dong@inano.au.dk.
---
---
News:
24th November, 2022
Yuqing Wang successfully passed the PhD defense and was awarded the doctor's degree.
Congratulations!
3rd October, 2022
Xuya Xiong successfully passed the PhD defense and was awarded the doctor's degree.
Congratulations!
8th April, 2022. Welcome Xinyu Zhang to Bio-SPM Lab
Xinyu Zhang is from ETH Zuerich under supervision of Professor Tomaso Zambelli. Xinyu' research is mainly based on FluidFM which is a powerful tool with versatile biological applications. She is developing Force-controlled electrophysiological measurement such as patch clamp and SICM using FluidFM at Inano (Interdisciplinary Nanoscience Center), Aarhus University.
21st February, 2022. Welcome Mostafa Salehirozveh to Bio-SPM Lab
Mostafa Salehirozveh comes from University of Bologna. Electrolyte particle counting and sizing and characterization of Individual particles in solution can be accurately performed using the resistive pulse sensing (RPS) method based on the Coulter principle. By using Silicon Nitride nanopores, he is able to identify and characterize individual particles such as amyloids, DNA polymers, and bacteria at Inano (Interdisciplinary Nanoscience Center), Aarhus University.
Welcome!!!
10th January, 2022. Welcome Paolo Ciocci to Bio-SPM Lab
Paolo Ciocci comes from Université Paris Cité and his supervisor is Prof. Frederic Kanoufi. Paolo is developing deep learning architectures applied to RNA origami structures imaged by AFM. He is using convolutional neural networks in order to extract parameters on statistical populations of features, reducing the human bias which can affect data extraction from complex images
Welcome!!!
25th August, 2021. Welcome visiting researcher Ruizhou Wang to our Bio-SPM Lab
Visiting researcher Ruizhou Wang is from Guangdong University of Technology, China. He will work with Patch Clamp technique.
Welcome!!!
14th June. Back to Bio-SPM Lab for your research activities
From Monday 14 June, the following guidelines will apply on all of AU's campuses:
· Face coverings will no longer be required.
· The 1-2 metre social distancing guideline will no longer apply.
· All staff and student may return work in the lab from Monday 14 June.
· The current rule that everyone who comes to Bio-SPM must able to present documentation of a negative Covid-19 test/a valid Covid passport will remain in place until 1 August.
17th March, 2021. Publication
Long-distance electron transfer in a filamentous Gram-positive bacterium
Yang, Y. G.; Wang, Z. G.; Gan, C. F.; Klausen, L. H.; Bonné, R.; Kong, G. N.; Luo, D. Z.; Meert, M.; Zhu, C. J.; Sun, G. P.; Guo, J.; Ma, Y. X.; Bjerg, J. T.; Manca, J.; Xu, M. Y.*; Nielsen, L. P.; Dong, M. D.*
Nat. Commun. 2021, 12, 1709. DOI: 10.1038/s41467-021-21709-z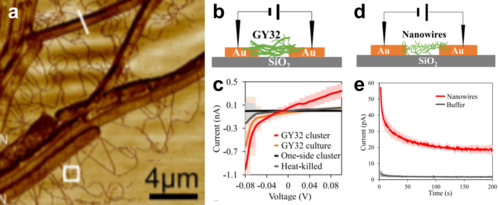 1st February, 2021. Publication
In Situ Resistive Switching Effect Scrutinization on Co-Designed Graphene Sensor
Xiong, F.; Wang, Z. G.; Bøjesen, E. D.; Xiong, X. Y.; Zhu, Z. H.*; Dong, M. D.*
Small, 2021, 2007053. DOI: 10.1002/smll.202007053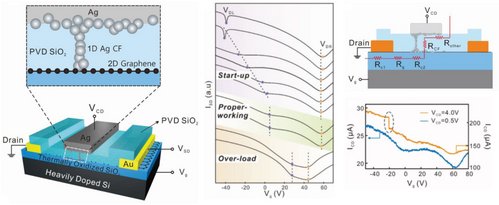 4th January, 2021. Publication
Melt Electrospinning Writing of Magnetic Microrobots
Su, Y. C.; Qiu, T.; Song, W.; Han, X. J.*; Sun, M. M.; Wang, Z.; Xie, H.; Dong, M. D.*; Chen, M. L.*
Adv. Sci., 2020, 2003177. DOI: 10.1002/advs.202003177
9th December 2020
Following the general message from the University, the University is closed down from tomorrow until Jan 4, Bio-SPM Lab will follow the rules with a conditional access.
· You should work from home if you can
· We are allowed to maintain critical functions and research. Critical research activities are coordinated by our group leader, who are responsible for reducing the activities requiring physical presence at iNANO to a minimum.
· Meeting rooms are closed.
· The student helpers' office will be open every day until Dec 23 (Mon-Thur 8-16, Fri 8-15:30). The student helpers will receive the parcels that get delivered and notify you if you get a parcel.
Keep safe!
10th November 2020
Bio-SPM group have a new micronpatterning system-----PRIMO, working with Olympus IX83. The training will be hold on 17th November, 2020
(image from: sygnis.pl/bio/micropatterning-alveole-lab/)
1st November 2020
We have a new PhD student Anne-Kathrine Kure Larsen joining in Bio-SPM group. Welcome!
21st October 2020
Bio-SPM group import a brand new fluorescence microscope---Olympus IX83. The microscope has been set up and the training will start at 9.00 am on 22nd October, 2020.
(image from: www.olympus-lifescience.com.cn/zh/microscopes/inverted/ix83/)
28th August 2020
The paper "A hierarchically ordered compacted coil scaffold for tissue regeneration " is published by Yingchun Su on the journal of NPG Asia Materials, Congratulations!
Su, Y. C.; Zhang, Z. Y.; Wan, Y. L.; Zhang, Y. F.; Wang, Z. G.; Klausen, L. H.; Huang, P.; Dong, M. D.*; Han, X. J.*; Cui, B. X.; Chen, M. L.*
NPG Asia Mater., 2020, 12, 55. DOI: 10.1038/s41427-020-0234-7
23th June 2020
Xiaochen Chen successfully passed the PhD defense and was awarded the doctor's degree.
Congratulations!
27th May 2020
Bio-SPM Lab reopens as of 27th May, 2020. All research and activities will ramp up gradually. Cheers!
23rd April 2020
Bio-SPM Lab reopens conditionally. Rules for opening have been updated on the labbook.
27th March 2020
Prime Minister Mette Frederiksen extended the physical closure of the universities by an additional fourteen days – up to and including 13 April. This means that Aarhus University will remain closed. The Bio-SPM Lab will follow the progress closely as well.
Stay safe.
12th March 2020
Due to spread of coronavirus, Bio-SPM Lab would be locked down from 13th March, 2020. Anyone without permission would not be allowed to access to the lab. The further arrangement would be announced after two weeks. Take care of yourself.